Our small family run hotels are just yards from the beach and all the action…
The Wildwind Adventure centre is right in the middle of Vassiliki beach - the boat park and sailing centre is a few yards from our comfortable accommodations which are set in beautiful landscaped gardens. Between the accommodation and sea there is a large shaded lawn area - a perfect spot to relax and watch the action on the water.
From your first drink and welcome meal in Vassiliki you will find that this is an easy place to meet people and make new friends. Our beach and pool bars have a very relaxed feel, and you are welcome to join in any of our casual social events. These include the famous Wildwind barbeque, with its eclectic mix of live music at the beach bar and our cocktail nights at the pool bar with long drinks and tall stories.
Wildwind Adventures is equally suitable for families, couples and singles.
Our comfortable bed-to-beach set up
Our Vassiliki holidays benefit from friendly accommodation in two small family-run hotels, set within beautiful landscaped gardens and located just yards from the beach. All our simple and comfortable rooms are en-suite and most have either sea views or views of the surrounding countryside and mountains.
Our bars & restaurants
Our beach and pool bar restaurants provide relaxing retreats and offer a range of appetising, homemade fare. This includes delicious fresh salads, Mediterranean snacks and meals from breakfast through to early evening. Because we don't price our holidays in Vassiliki to include meals, you are also free to enjoy the flavour and variety of the local tavernas, bars and cafes in Vassiliki harbour, just a five minute stroll away.
Our entertaining evenings & social vibe
These areas are also the focal points for our casual social evenings, including chilled out cocktail nights by the pool and a weekly barbeque with an eclectic mix of live music for your entertainment. We share these areas with Wildwind Sailing Holidays, whose chilled approach fits well with our own and which means it's easy to make friends on our holidays in Vassiliki.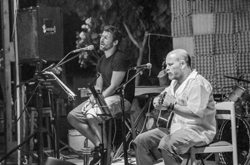 A chance to get away from it all
Getting away from it all is easy too, with the nearby orange and olive groves providing tranquil and ideal surroundings for cycle rides or walks off the beaten track. The Greek people are warm and welcoming and positively delight in showing off the beauty and culture of their country. You couldn't find a better place to switch off and explore your senses than in these gorgeous surroundings.