One holiday – all the adventures!
If you are looking for the perfect active summer holiday, look no further. With the gorgeous Greek sun above, and crystal-clear waters below, you'll experience a wide range of watersports in a perfect environment, with fully qualified instructors who are recognised to be among the best in their fields.
All this in beautiful Vassiliki bay, on the Greek island of Lefkas, less than three hours flying from the UK.
As well as learning how to sail and windsurf with Europe's top sailing school, you can try out kayaking, stand-up paddle-boarding, scuba diving, snorkelling, swimming and sunbathing, and enjoy our exclusive rigid inflatable tour of the island and its award-winning beaches. Off the water, join in our beach BBQ's and cocktail nights with live music or just relax – it's your holiday to do as much or as little as you choose.
Our prices start at only £799 including flights with British Airways and overseas transfers, accommodation in our small, family run hotels right on the beach, and all of the activities.
Wildwind Adventures is a completely new holiday concept created by Wildwind, which has been Europe's top sailing destination for more than thirty years. We're based in an authentic Greek fishing village, where the friendly bar and restaurant owners in the harbour will welcome you with open arms. We're just a three-hour flight away from London, but you'll instantly be in a different world entirely. The village is safe and tranquil, and the calm and relaxed pace of Greek island life forms a wonderful backdrop to the adventures you are about to embark on. Why settle for a normal holiday when there are so many adventures to be had?
Please call us on 01920 444 091 | outside UK +44 1920 444 091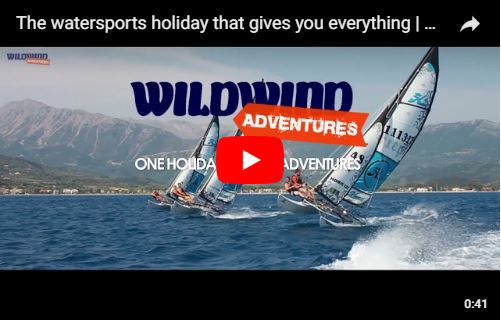 For more videos, check out the Adventures page
Special Offer
Nominated for British Travel Awards for the Best Activity/Sports Holiday company in 2019.
Our Vassiliki centre opens May 3rd 2020.
Special Dates for 2020
Laser Training Weeks 3rd, 10th and 17th May.
Catamaran Training Week 17th May
(Our normal sailing weeks are also available these dates)/p>
Ionian Regatta Week 13th September
Can't wait til summer?
Our centre in Mauritius is open year round - and with prices from around £1550 including flights, accommodation, adventures and sailing there's never been a better time to escape the northern autumn and winter months. https://mauritius.wildwind.co.uk/

A unique laid-back atmosphere
Wildwind Adventures shares its facilities with Wildwind sailing and Healthy Options Yoga, Pilates and fitness, two of Europe's best and most respected holidays that attract visitors from all over the continent. However, because the number of guests allowed at any one time is limited because of the small scale of the setup in the bay, you'll find the atmosphere to be very relaxed. People of different ages and with all sorts of backgrounds flock together around the beach to share in the holiday spirit in which everything is optional. Enjoy lunch in the village, go for a walk to the nearby olive groves and smell the lemon blossom, enjoy our cocktail evenings around the pool and make some new friends at the BBQ nights with live music.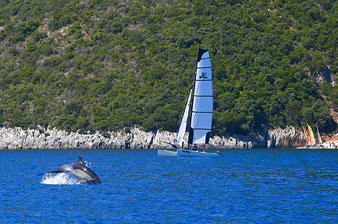 A stunning island that's a must to visit
The island of Lefkas itself is a sight to behold. The white rocky coastline, famous from ancient Greek mythology, creates a sharp visual contrast with the lush green vegetation that covers the mountain peaks. Unlike other Greek islands, Lefkas isn't spoilt by mass tourism; it's a place where real people live, work and raise their children, just as they have done since the times of Aristotle.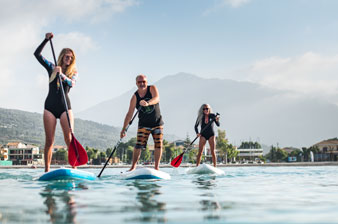 Perfect climate for watersports
Wildwind Adventures is based right in the centre of the beach that surrounds the gorgeous bay of Vassiliki, world renowned for its uniquely favourable watersports conditions. The bay itself is expansive yet safe and controlled. More importantly, the unique geological structure of the area all but ensures calm winds in the morning - ideal for activities like kayaking, paddle boarding and scuba diving - while the afternoons are almost without exception very windy, ideal for experiencing the thrill of speed. Even if you never sailed before, we guarantee you'll have a massive grin on your face as you return from a joy ride with one of our experienced instructors.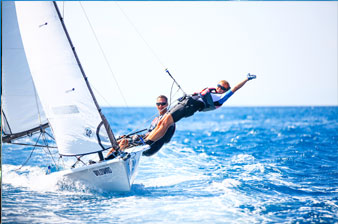 Family-run hotels right on the beach
You will be warmly received in one of our recently renovated and tastefully appointed hotels right on the beach, staffed by local families as they have been for decades. Our holidays are priced not to include any meals, giving you the freedom to do some culinary exploration. The on-site restaurants and pool bar offer Mediterranean fare that's fresh, healthy and delicious and there are plenty of vegetarian options available. We recommend, however, for you to venture out from time to time: the old harbour is just a stone's throw away and here you find many cozy restaurants and pubs. This being a fishing village, the fresh sea food delicacies are especially recommended!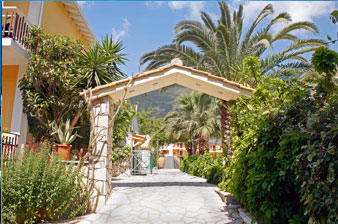 Fantastic adventures at a great price
Wildwind Adventures holidays offer amazing value for money. Prices start at just £799 and include round trip flights with British Airways from London and local transfer to the resort. Once you arrive, you'll be assigned a room in one of our lovely family run hotels. All the activities are included, including instruction by our highly professional, approachable and RYA-certified instructors, most of whom are British. While we have guests from all over Europe, English is the most commonly used language. The one thing not included in your holiday price are the meals, so you have the freedom to organize those around your own preferences. There are plenty of options available.
Here's an overview of everything included in the holiday prices as advertised on this website:
Sailing
Windsurfing
Stand-up Paddle Boarding
Scuba diving
Sea kayaking
Mountain Biking
Amazing Sea Safari
Airport transfers to and from the resort
Beachfront resort, most rooms with stunning views
Professional instruction for all levels by RYA certified instructors